Unlock the Secrets to Successful Residential Roofing: 5 Expert Tips for a Flawless Project
Are you ready to transform your home with a stunning new roof? Whether you're in need of a repair, replacement, or fresh installation, taking on a residential roofing project can be an exciting process.
To ensure the success of your construction project and achieve the desired results, it's crucial to approach it with the right knowledge and preparation. Don't worry, we've got you covered! In this comprehensive guide, we'll share five essential tips that will empower you to make informed decisions and navigate your residential roofing project with confidence. We'll provide valuable information and guide you in transforming your vision of the perfect roof into a stunning reality!

1. First things first. Understand Your Roofing Needs
To undertake a residential roofing project, it's crucial to have a clear understanding of your roofing needs right from the start. Taking the time to assess the condition of your roof and identify any existing issues or areas of concern is a crucial step in the planning process. Is your roof showing signs of extensive damage that require a complete replacement, or is it a minor repair job? By comprehending your specific roofing needs, you can communicate effectively with roofing contractors and ensure that your expectations align with the scope of the project.
Understanding your roofing needs is crucial for a successful residential roofing project. It allows you to make informed decisions about materials, budget, and timeline. By assessing your roof's condition and defining the scope of the project, you can set realistic goals and have effective discussions with potential roofing contractors. Whether you need to address leaks, repair shingles, improve insulation, or enhance the overall aesthetics of your roof, a clear understanding of your needs sets the stage for a smooth and satisfactory experience. Take the time to comprehend your roofing needs and make informed decisions as you move forward with your project, ensuring effective communication with your chosen roofing contractor.
2. Research and Shortlist Reputable Roofing Contractors
Finding the right roofing contractor for your residential project requires thorough research and careful consideration. Start by investing time in exploring local roofing companies that have established a solid reputation and extensive experience in residential roofing. Seek recommendations from trusted sources such as friends, family, or neighbors who have recently undergone a similar roofing project. Their insights can provide valuable guidance in your decision-making process.
Once you have gathered recommendations, delve deeper into each contractor's credentials. Assess their expertise, years of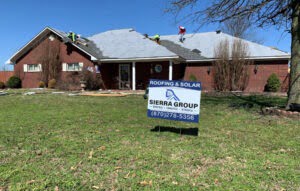 experience, and the range of residential projects they have successfully completed. Customer reviews and testimonials offer valuable perspectives on their reliability and customer satisfaction. Based on your research, create a shortlist of contractors who demonstrate a strong reputation, positive feedback from previous clients, and a proven track record of delivering high-quality residential roofing services.
3. Verify Licenses, Insurance, and Certifications
During the process of hiring a roofing contractor for your residential project, it's crucial to prioritize verifying their licenses, insurance coverage, and certifications. First and foremost, ensure that the contractor holds the necessary licenses to operate in your area. This demonstrates their compliance with local regulations and confirms that they have met the required standards to provide roofing services.
It is also recommended to check the contractor's insurance coverage. Confirm that they have liability insurance, which protects you from potential liabilities in case of accidents or property damage during the project. Workers' compensation coverage is vital to protect both the workers on your property and yourself from any injuries or claims that may arise during the roofing process.
Lastly, consider certifications from reputable industry organizations. These certifications indicate the contractor's commitment to quality workmanship and professional standards, giving you confidence in their abilities. By verifying licenses, insurance, and certifications, you can hire a roofing contractor who is qualified, reliable, and dedicated to delivering exceptional results for your residential project. You can also visit the Better Business Bureau (BBB) which serves as a valuable tool in assessing a contractor's credibility and reputation. It provides ratings, reviews, and accreditation status for businesses, including roofing contractors. Overall, it can be useful during the process of making an informed decision and ensuring that you hire a reputable roofing contractor for your residential project.
4. Request Detailed Written Estimates
These estimates serve as valuable tools for comparing prices, materials, and services among different contractors. By obtaining multiple estimates, you can gain a comprehensive understanding of the scope of work, the specific materials to be used, the projected timeline, and a clear breakdown of costs. It's important to review these estimates carefully and look beyond the total cost. While affordability is a factor, remember that the cheapest option may not always deliver the best value in terms of quality and long-term durability. 
Pay attention to the materials listed in the estimates, as well as any warranties or guarantees provided. Consider the contractor's reputation, experience, and track record in delivering successful residential roofing projects. By requesting and thoroughly evaluating detailed written estimates, you can make an informed decision and choose the roofing contractor that offers the best combination of quality, affordability, and reliability for your specific needs.
5. Review and Sign a Contract
Once you have selected a roofing contractor for your residential project, review the contract thoroughly before signing it. The contract should include important details such as project timelines, payment schedules, material specifications, warranty information, and any other agreed-upon terms. If there are any ambiguities or concerns, seek clarification from the contractor before proceeding. A clear and comprehensive contract will protect both parties and ensure a smoother project execution.
In addition to these five essential tips, it's important to communicate openly and regularly with your roofing contractor throughout the project. Maintain a dialogue to address any concerns, discuss progress updates, and stay informed about the project's timeline. This open communication will foster a positive working relationship and help prevent misunderstandings.
Remember, your residential roofing project is an investment in the protection and value of your home. By following these tips and working with a reputable roofing contractor, you can ensure that your project is completed successfully, delivering a durable and aesthetically pleasing roof for years to come.
As your premier choice for roofing services in Northeast Arkansas. With our extensive industry knowledge and commitment to excellence, we provide a wide range of roofing solutions tailored to meet the specific needs of homeowners in the region. Our team of highly skilled professionals is dedicated to delivering superior craftsmanship and outstanding customer service. Whether you require roof repairs, replacements, or new installations, we are here to exceed your expectations. Contact us today to discuss your roofing needs and discover how our expertise can enhance the beauty and durability of your home's roof.