5 Key Benefits of Jonesboro's Solar Home Transformation
The Jonesboro Home Solar Transformation has homeowners buzzing about the solar shift, dreaming of a brighter, greener future for their homes! Beyond the aesthetics and architectural finesse, this transformation serves as a testament to Jonesboro residents' commitment to adopting progressive solutions that bring real-world benefits. Rooted deeply in the principles of sustainability, it merges the robustness of residential roofing with the promise of solar technology. Jonesboro homeowners are not just following a trend; they are pioneering a revolution.
This transition to solar isn't a spontaneous decision but a well-thought-out plan to achieve energy independence. With an eye on long-term economic benefits, households are making deliberate choices, focusing on the trifecta of self-sufficiency, financial prudence, and ecological mindfulness. With this backdrop, we will journey deeper into the many facets of this compelling transformation, exploring its benefits and the robust community support driving it forward.
1. Sustainable Energy Meets Architectural Elegance:

solar roofing services
The modern residential roofing landscape in Jonesboro has evolved. It's no longer just about shielding your home from the elements. Today, roofing integrates seamlessly with solar panels, offering homeowners a dual advantage: protection and power generation. This fusion of roofing and solar isn't just functional; it adds a contemporary elegance to homes, making them stand out. Beyond mere aesthetics, this blend also signifies a homeowner's commitment to sustainable living. With the rising awareness of environmental issues, such architectural choices underscore a forward-thinking approach.
As the community witnesses more homes adopting this synergy, it sets a progressive trend for others to follow. For potential homebuyers, a solar-integrated roof can be a major selling point, emphasizing both modern design and energy efficiency. Through this evolution, Jonesboro homes are not just becoming power-efficient, but they're also setting the standard for modern, sustainable architecture in the region.
2. An Economical Shift with Long-Term Gains:
Initial investments in solar might seem steep to some. But consider this: the average Jonesboro homeowner could save significantly on energy bills over the lifespan of a solar system. Additionally, solar-equipped homes often fetch a premium in the real estate market, proving that the Jonesboro Home Solar Transformation isn't just an environmental statement—it's a smart financial move. As electricity rates continue to fluctuate, having a solar system means stable and often reduced energy costs. In the long run, these savings can offset, and in many cases, surpass the initial installation costs.
Tax incentives, rebates, and solar credits further sweeten the deal for homeowners. Beyond the monetary aspects, homeowners can bask in the knowledge that they are reducing their carbon footprint, contributing positively to the environment. As the community becomes more energy-aware, homes with solar capabilities will likely be more in demand, ensuring a wise investment for the future.
3. Reducing Carbon Footprints, One Roof at a Time:
Every resident who partakes in the Jonesboro Home Solar Transformation by transitioning to solar contributes to a collective effort. By reducing dependence on non-renewable energy sources, homes become part of a larger solution combating climate change. The environmental benefits are tangible, with every solar panel contributing to fewer carbon emissions and a healthier planet. Furthermore, this shift to solar isn't just about the global picture; it has localized benefits too. Cleaner air, reduced strain on local power grids during peak hours, and the creation of green jobs within the community all stem from this transition.
With each solar installation, Jonesboro moves closer to a sustainable future, proving that individual actions, when aggregated, can create significant positive impacts. In embracing solar, residents not only champion a greener future but also inspire neighbors and the next generation to prioritize the environment.
4. Local Expertise and Comprehensive Services: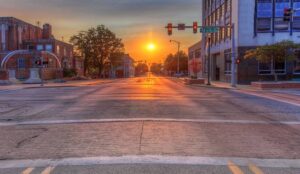 The success of any home's transition to solar lies in the hands of professionals who orchestrate it. Jonesboro boasts a pool of skilled experts, from roofing contractors to solar technicians, who ensure a smooth and efficient transition. Their comprehensive services cater to every aspect of the process, from initial consultations to post-installation maintenance. These professionals understand the unique architectural and climatic nuances of Jonesboro, enabling them to tailor solutions that best fit individual homes. Their commitment goes beyond just installation; they prioritize educating homeowners about maximizing the benefits of their new system. With local expertise, residents are guaranteed a service that's not only technically sound but also deeply rooted in the community's values.
By choosing local experts, homeowners invest in quality and foster a bond of trust that ensures their solar journey is in the best hands.
5. Community Engagement and Shared Learning:
In Jonesboro, the potential for a thriving solar community through the Home Solar Transformation is immense. It's essential for homeowners to regularly engage in discussions, share experiences, and learn from one another. Such interactions pave the way for a vibrant community where shared learning becomes the norm, ensuring every resident is well-informed and can make decisions that best suit their individual needs. Beyond just sharing tips and tricks, these interactions can create a support network for those new to the solar journey. Workshops and community events centered around solar education could become commonplace, making technical knowledge more accessible. Events featuring local experts could provide insights into the latest solar trends and technologies. Furthermore, having a community to turn to means homeowners have a platform to address concerns, troubleshoot issues, and celebrate milestones, making the entire process more collaborative and enjoyable.
This collective spirit has the potential to set Jonesboro apart and propel its residents toward a brighter, more sustainable future.

Jonesboro Home Solar Transformation: Embracing the Future:
The Jonesboro Home Solar Transformation is more than just a residential shift; it's a vision for the future. A future where homes are not just shelters but powerhouses of green energy. A future where every Jonesboro resident plays a part in crafting a sustainable legacy for generations to come. For those keen on understanding the governmental perspective on solar energy and its incentives, the official Arkansas Energy Office offers a wealth of information.
The narrative of Jonesboro's transition to solar is ongoing. As technology advances and more residents join the movement, the story will only become richer.  Ready to be part of Jonesboro's green future? Let's take this transformative journey together, feel free to reach out to us. We're here to help every step of the way.